Media Packs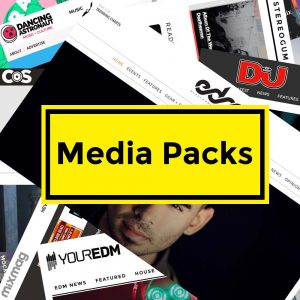 Media Dance Music PR – What to get more from your music release with?
Media Dance Music PR needs press and our Media Ping Packs are the way forward. Get a guaranteed amount of exposure on blogs & websites worldwide that have huge followings.
Want to know who we approach on your behalf?.
Here are a few… Your EDM, Sterogum, Dancing Astronaut, Consequence Of Sound, This Song Is Sick, EDM Sauce, This Song Slaps, The Bangin Beats, The Sights & Sounds, DJ Mag, Dj Times, EDM.com, Stoney Roads, Vice/Thump, Earmilk, EDM Tunes, Magnetic Mag, Nest HQ, Run The Trap, Raver Mag, EDM Identity, Trap Style, Fux With It, Fresh New Tracks, Noise Porn, Dance Music NW, Dance Rebel, EDM Maniac, EDM NYC, Daily Beat, Salacious Sound, The Music Ninja, EDM Boutique, Masters of Techno & more, too many to list.
The perfect way to give your release that extra push and get you a better ROI for your investment of a one off fee. Media Dance Music PR online is essential & an essential tool in the world of Media Dance Music PR Services.
We have 3 different levels of the media dance PR packs for you to choose from, please below.
Level 1
• 9 Minimum guaranteed published posts on some of the top electronica music.
• We can write the press release for you, if you do not have one ready.
• An All In Ping Plus. (Targeting 10 Club DJs, Radio & Blogs of your choice via personal email plugging).
Level 2
• 19 Minimum guaranteed published posts on some of the top electronica music websites
• We can write the press release for you, if you do not have one ready.
• All In Plug All In One. (Email radio plugging is included with this services – No extra bonus')
Level 3
• 39 Minimum guaranteed published posts on some of the top electronica music websites
• We can write the press release for you, if you do not have one ready.
• All In Plug All In One. (Email radio plugging is included with this services – No extra bonus')
We offer the Media Dance Music PR packs with out the record promotion options. Please contact us here